Reimbursement for Diapers and Youth Incontinence Underwear
Diapers and other incontinence products can strain a family's budget and there are a variety of conditions that make the potty-training experience different for every family. For those with certain needs or different abilities, there's often help available! All states offer reimbursement programs to help cover these expenses and Comfees is proud to be distributed through a network of over 900 medical reimbursement distributors to help. Finding out if you qualify for reimbursement is easier than you might think! Select your state of residence from the drop-down menu and check out the 4-step process below to learn more.

Reimbursement made simple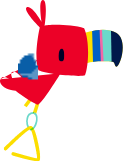 STEP 1: Determine Eligibility
Is My Child Eligible to have Diapers and Trainers Reimbursed through Medicaid?
STEP 2: Get a Prescription
If your state requires a prescription, simply visit your pediatrician or primary care provider and ask them to write you a prescription for diapers, training pants, or youth pants. Some providers may list a specific brand, style, or size, but it's not required. Your provider may also write a specific HCPCS (healthcare common procedure coding system) code to identify which product they recommend. The HCPCS codes for diapers and youth incontinence products are:
- T4529: Pediatric sized brief/diaper, small/medium
- T4530: Pediatric sized brief/diaper, large
- T4531: Pediatric sized underwear/pull-on, small/medium
- T4532: Pediatric sized underwear/pull-on, large
- T4534: Youth sized protective underwear/pull-on
Our size newborn through size 3 diapers qualify under T4529. Size 4 through size 7 diapers qualify under T4530. 2T/3T Training Pants for either boys or girls qualify under T4531. Our 3T/4T and 4T/5T in either boys or girls qualify under T4532. Both sizes of our youth pants qualify under T4534.
View our
Where to Buy
page to find the address and phone number for a reimbursement dealer that sells Comfees near you.
Many dealers will ship product directly to your home. Comfees uses discreet shipping boxes for your privacy. Work with your local dealer for the delivery or pick-up method that works best for you.