What To Do When Your Child Outgrows Size 6 Diapers: Comfees® Offers Size 7 Diapers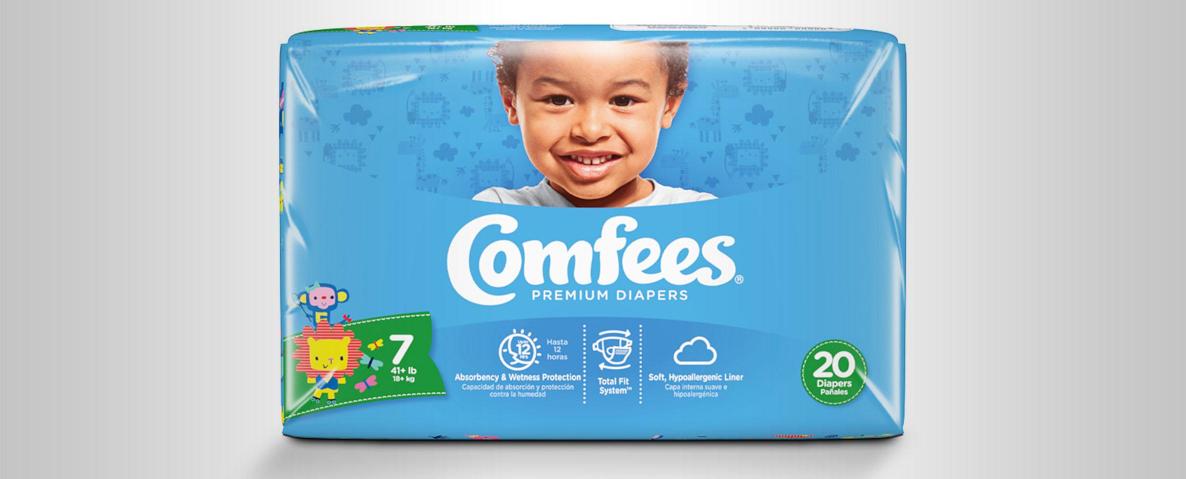 WHAT TO DO WHEN YOUR CHILD OUTGROWS SIZE 6 DIAPERS: COMFEES® OFFERS SIZE 7 DIAPERS
The parenting message boards are buzzing with moms and dads frantically asking, "My child is growing so fast. He's in size 6 diapers now, but he's about to outgrow them. My child is not yet ready for potty training and youth diapers are still too large. What do I do?"
COMMON CAUSES FOR NEEDING SIZE 7 DIAPERS
It's a more common concern than you might realize, and there are many reasons a child might need a larger size diaper. Some common causes include:
Your child has medical needs that require him or her to wear a diaper or trainers a bit longer, or for life.
Your child simply prefers the texture and snug security while he or she transitions into underwear.
Your child hit a major growth spurt and grew larger slightly faster than other children.
Whatever the reason, it's important that your children feel comfortable and have appropriately-sized, functional diapers and trainers for as long as they need them!
PERSONAL TALE: STRUGGLING TO FIND COMFORTABLE DIAPERS THAT FIT MY OLDER CHILD WITH DOWN'S SYNDROME
One parent shared their story with us. Her son "Alan" is a very happy boy. He's 10 years old, somewhat small for his age, but loves to dance, have rap battles with his older sister, and make art. His fun, bubbly personality spreads joy to all his teachers. He doesn't let his Down's Syndrome or missing section of intestines slow him down.
"Alan sometimes forgets to use the bathroom," explains his mom. "His intestines don't register restroom urgency to his brain. So even though he's ten years old, he needs to wear a diaper."
With his diaper, Alan is able to play all the games the other kids play – dodgeball, talent contests, and soccer are his favorites! None of the other kids even realize he's wearing a diaper, so Alan maintains his independence and confidence – which, just like every other child, is vital for him to learn and grow.
And not only is he growing: He's thriving. He's inspiring others with his big, beaming smile and joyous personality – and his awesome dance moves.
WHERE TO FIND LARGER DIAPER SIZES
We've developed size 6 and 7 diapers with your family in mind. Obviously, children learn and grow best when they're free to explore and play while safe, comfortable, and dry. Comfees® delivers all sizes (Newborn through 7) straight to your door. Use our tool here to find a dealer near you.
Keeping your child's privacy and dignity is very important to us, and we deliver our training pants and youth pants products in unmarked boxes (unmarked boxes for diapers coming soon!). Like Alan, your child can enjoy the security that allows him or her to safely grow, learn, and play.