Traveling With Toddlers On Summer Road Trips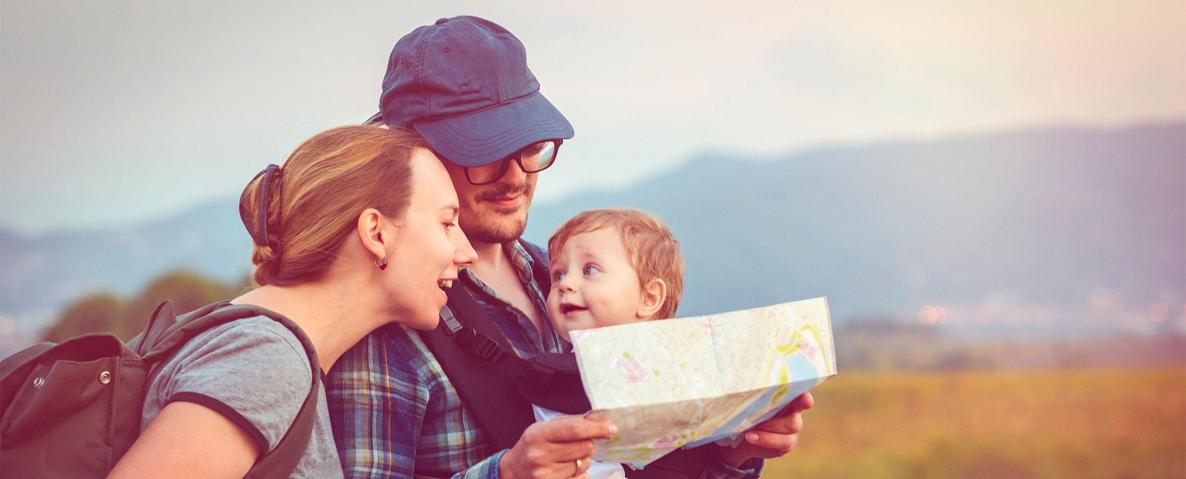 Road-tripping and Diaper Changes
June is now upon us, which means the school year is wrapping up, warmer weather is approaching, and vacation plans are underway. While there are different travel options, road trips remain a popular way to travel, especially for families with younger children. They offer the benefit of cost savings, schedule flexibility & convenience, and can become a great family memory. Last year AAA predicted that 33.9 million people would be driving at least 50 miles or more from their home base this summer. Needless to say there will be a lot of families travelling with loved ones throughout the summer, which means being prepared will be especially important in making your trip with your little ones a success!
Car Diaper Changing Station
PLAN FOR EXTRA TRAVEL TIME
A baby goes through 10-12 diapers a day, according to WebMD, who polled parents and pediatricians. If you divide that number into a 24 hours a day, a baby goes through a diaper on average every 2 hours. So, if your road trip to the beach is expected to take 6 hours, it would be best to factor in extra time for the 3+ stops along the way for the diaper changes. If the baby poops while asleep or awake, then you'll want to change the diaper right away.
The American Pregnancy Organization encourages changing baby as soon as possible. The acid content of a bowel movement may irritate your baby's skin and cause diaper rash. It may be tempting to let the baby snooze with a dirty diaper, but for the sake of your child's skin health, you're better off making the change.
LET THE GPS NAVIGATE
Road construction and traffic patterns cannot be predicted, so a reliable GPS system can be a lifesaver! A GPS can help you avoid some potential back-ups, which can be crucial especially if your child needs to have their diaper changed. It gives you the opportunity to get off at the nearest exit to take care of their needs.
Remember that it is against the law to remove a baby, toddler or young child from a car seat while the car is in motion. Never attempt to change a diaper while in a moving vehicle. Each state in the U.S. sets car seat and booster seat laws and sets fines accordingly. For more information: State Car Seat Laws
PULL OFF THE ROAD AND USE HAZARD LIGHTS
If you find yourself in a bind and need to change your baby's diaper as soon as possible, we recommend the following as a safety best practice: pull your car off onto the shoulder of the road, turn the car's ignition off, and then turn on the hazard lights. From there, prepare your diaper changing space in your vehicle, and then release your baby from their car seat to change their diaper. Ideally it would be best to pull off at an exit ramp to find the nearest rest stop to change your child's diaper, but sometimes that's not always a realistic option, especially if you're stuck in stand still traffic.
Car Kit for Baby
To ensure you have everything for your baby's car changing station, a baby car kit is a helpful tool to help you stay organized with the essential items needed. There are a slew of DIY of baby car kit ideas on Pinterest that you can customize for your child's particular needs and habits. Turn your car into a prepared and ready-to-change diapering area by starting with a cute and efficient container.
CAR KIT CHECK-LIST:
Container
Comfees diapers
Baby wipes
Diaper cream
Portable changing pad
Ziploc plastic bags (to contain soiled diaper)
Portable diaper pail and refills
Cotton cloths
Paper towels
Water bottle
Baby sunscreen
Hand sanitizer
Baby toys or rattles
Change of fresh clothes
If you're planning a family road trip this summer with your babies, toddlers or young children, save yourself travel time by scheduling time for diaper breaks and equipping your car with the essential items your child needs. A successful road trip will help create an even better vacation, with wonderful family memories!